Why We Believe in Credential Transparency
Creating a transparent credential marketplace using the technologies available through Credential Engine enables the community to have: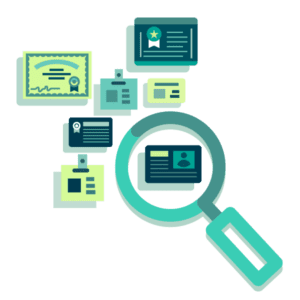 Understanding Credentials
Clear understanding of their credentials, their components, and their connections to both each other and the workforce
Access to Linked Data
Access to linked data that can be utilized for numerous use cases to solve real-world problems
Insights
Deeper insights into credentialing data trends
Access to A Common Language
Access to CTDL – our common credentialing language
Who We Are
The CTDL Advisory Group is comprised of a principal group of leading experts in areas that are critical to powering talent ecosystems' data internationally and open participation.
Listed below are the principal members for this Advisory Group. These members and their organizations play a vital and substantial role in improving talent ecosystems. Credential Engine's goal in having these members participate is to have individuals representing and bridging the international community. 
Anthony F. Camilleri, Senior Partner, Knowledge Innovation Centre. Located in Slovenia.
Borhene Chakroun, Director for Policy and Lifelong Learning Systems, United Nations Educational, Scientific and Cultural Organization (UNESCO). Located in France. 
Dan Brickley, Liason, Schema.org. Located in England. 
Etan Bernstein, Co-Founder & Head of Ecosystem, Velocity Network Foundation

.  Located in Israel. 

James Keevy, Chief Executive Officer, JET Education Services. Located in South Africa. 
Jim Goodell, Director of Innovation, Quality Information Partners, Inc. (QIP). Located in the United States. 
Jan Luts, Senior Data Scientist for European Commission via NTTD, European Commission. Located in Belgium.
Kelly Shiohira, Specialist Manager, JET Education Services. Located in Japan.
Rachel Scherer, Senior Program Officer, Data Innovation, Bill & Melinda Gates Foundation. Located in the United States.
Shizuka Kato, Analyst, Higher Education Policy Team, Directorate for Education and Skills, Organisation for Economic Co-operation and Development (OECD). Located in France.
*Simone Ravaioli, Director Global Ecosystem and Innovation, Parchment. Located in Italy. CTDL Advisory Group Chairperson.
Stuart Sutton, Metadata Consultant, Sutton & Associates. Located in the United States. 
Dr. Susanna Karakhanyan, Higher Education Policy and Regulation Director, Abu Dhabi Department of Education and Knowledge. Located in the United Arab Emirates. 
Thea Sommerseth Myhren, Co-Founder & CEO, Diwala. Located in Uganda.
Visit our technical site to find information on the Advisory Group meeting schedule, meetings, agendas, materials, and more.