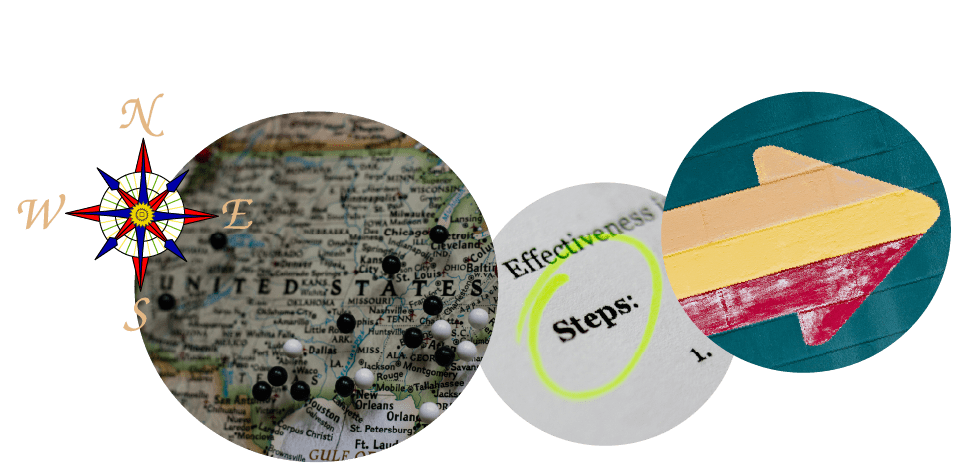 In the wake of unprecedented labor market uncertainty, state policymakers and agencies have a huge responsibility in ensuring their residents and employers thrive. The problem is that with nearly 1,000,000 unique credentials in the U.S., it can be unclear what a credential means, how credentials differ from one another, what skills they represent, how credentials relate to different jobs, and so on. Amid all this lack of clarity, state policymakers and agencies often don't know where to start or which next steps to take on the road toward credential transparency. 
Stakeholders are seeking clear alignment between education and work, and states play a vital role in uncovering those connections. Supporting, participating in, and advocating for credential transparency efforts is key to building an education and workforce marketplace ready to take on the challenges of the 21st century economy. The good news is Credential Engine has already outlined the steps that state policymakers and leaders can take to advance this work. 
State Roadmap to Credential Transparency
The Roadmap to Credential Transparency is a 10-step process that can help begin and advance the work of credential transparency. The Roadmap is supplemented by a detailed Action Guide and a Toolkit of resources that includes guiding materials to inform the work. The Toolkit can be filtered by step and audience so you can either browse the full roadmap or find resources that help you where you are. Toolkit resources vary between guiding materials for implementation, use case examples, and framing resources; all of which are useful for navigating down the road to transparency. For example:
Understand the Value:

Someone that is just beginning these conversations can read

briefs

,

reports

, and

news items

that can provide foundational information on transparency and the credential landscape.

Catalog and Publish Credentials and Competencies:

After making the case for credential transparency and aligning transparency needs with wider commitments, states can then catalog the credentials offered within their jurisdictions and publish data to the Registry. Luckily, our

General Workflow resource

helps guide states through this process. There are different ways to publish into the Credential Registry (i.e.

Manual

,

Bulk

, and

Third Party

) while meeting our

minimum and benchmark requirements

. 

Build Enduring Commitment:

Someone who has already published to the Registry, but is seeking ways to leverage policy to sustain credential transparency in their contexts can browse

Examples of Work Plans from State Partners

and/or find

sample language

that signals a continuing expectation of credential transparency within organizations.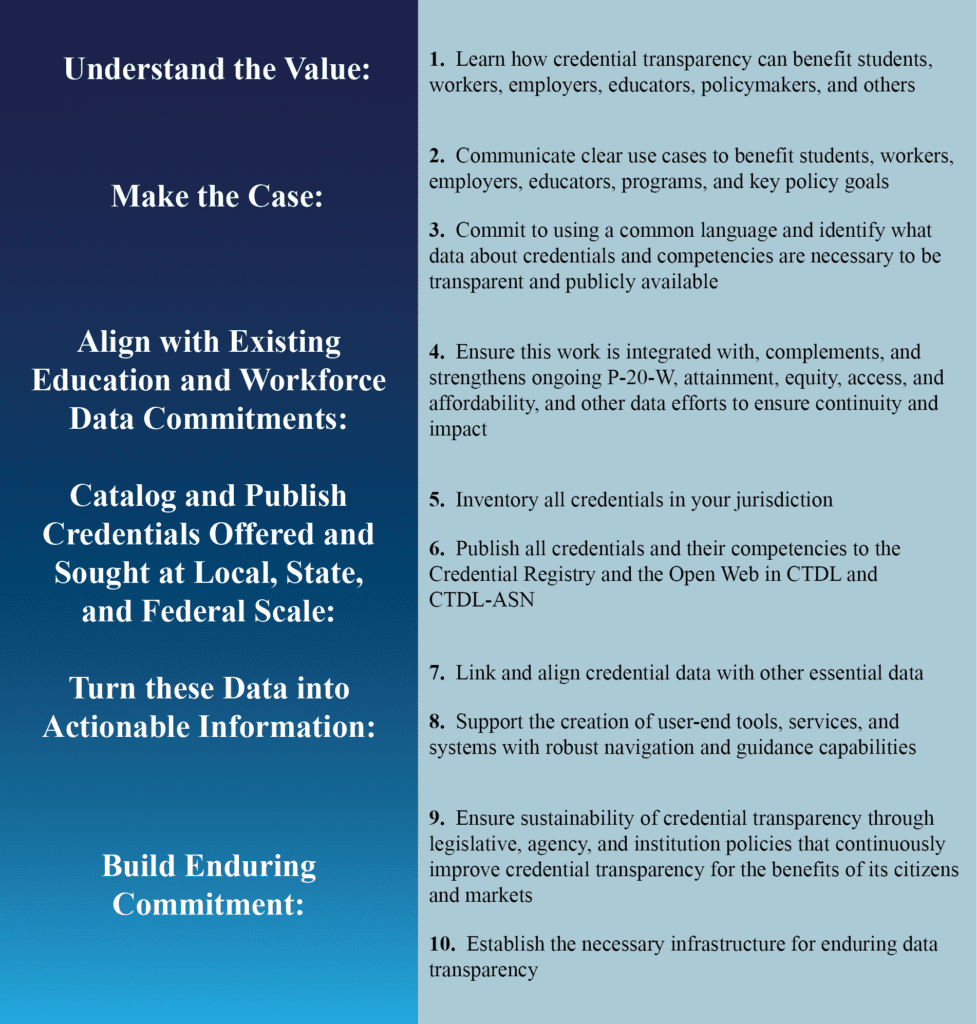 State Success Stories
Nineteen partner states and regions have successfully followed the Roadmap to Credential Transparency. These states have shared their success stories showcasing their approaches, the value this collaboration has brought to their state, and other useful tidbits of information that can help you get started down your own successful pathway. You can browse an interactive map on the state partnership page to get a quick glimpse of where the work is happening and read useful resources.
For example, Alabama has worked with Credential Engine to implement a viable and ambitious statewide workforce strategy. Alabama has been actively collaborating across five state agencies to rally around the need for credential transparency to the point they embedded the Credential Transparency Description Language (CTDL)—a common language to describe credentials and their associated skills—across various state systems. This work has even facilitated Alabama's immediate response to COVID-19 by placing the state in a better position to innovate and meet the needs of a changing landscape.
Another example comes from Indiana, where all certificate and degree programs at public institutions across the state have been published to the Registry—over 3,000 total. Indiana is now working to add credentials from its private institutions and create a fully transparent credential ecosystem within the state. The impacts of this partnership have been felt across Indiana. What once began as a project focused on their healthcare industry has expanded  to inform other pressing needs across the state. From this work, Indiana launched a widget within its TransferIN website to help its residents browse through the Credential Registry, understand what different credentials mean, and identify opportunities. For those who already hold credentials, Indiana's Ivy Tech Community College used the CTDL to build digital credentials that individuals can take with them, share, and use to showcase their skills and competencies.
As these and other success stories demonstrate, states which partner with Credential Engine can more effectively harness the power of credential data, better promote and implement credential transparency, and build new solutions that innovate the education and workforce space. They are better positioned to meet the challenges affecting their state residents and employers.
Get Started 
We invite you to use the Roadmap to Credential Transparency, the Toolkit, and State Success Stories to work toward a better-connected education and work ecosystem built through collaboration and planning for the future. The reality is that there are hundreds of thousands of education and training opportunities in the U.S., and transparency about credentials and their competencies, as well as efficient data practices, are essential to many of the key decisions states must make. These resources are designed to help state leaders understand and execute the steps needed to bring about, maintain, and benefit from credential transparency.