Credential Registry Overview
The Credential Registry is a cloud-based data store for linked open data resources published using CTDL JSON-LD. The Credential Registry holds detailed information on all types of credentials and skills in an easily-accessible format. Users can explore competencies, learning and employment outcomes, up-to-date market values, and career pathways and reference data on credential attainment and quality assurance at schools, professional associations, certification organizations, the military, and more. This data is a dependable and powerful source for systems, web and mobile applications, and other tools.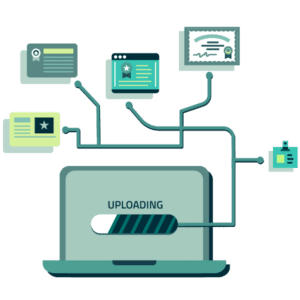 CTDL
All data in the Credential Registry is published by approved accounts, follows the Credential Registry's Minimum Data Policy, and leverages the CTDL family of schemas. When credential information is published to the Credential Registry, the CTDL links each data point (e.g. aligning credentials and skills), making it possible to compare that credential's data across all other credentials in the Registry. Together, the CTDL and the Credential Registry make credential and skill information accessible, discoverable, comparable, and actionable.  The Credential Registry is intended to power a broad array of systems, applications, and tools. 
The scope of the CTDL schema extends beyond the Registry, but the Registry supports publishing the majority of CTDL terms.  Its architecture also requires globally unique identifiers, known as CTIDs, with primary CTDL classes.  These identifiers are important because they enable not just identifying resources, but also linking directly to them in the Registry. 
This is a broad overview of the Credential Registry, for detailed information, visit our technical site https://credreg.net 
CTDL – Our Common Language
The Credential Transparency Description Language (CTDL) is what ensures that credential information is standardized and easy to understand. CTDL is based on linked data principles that connect them to the information learners and employers want to know most – such as outcomes, skills, and career pathways.
Credential Information in Action
Our Credential Finder demo application shows current credential data at work. It pulls information from the Credential Registry and allows users to find and compare credentials. 
Credential Registry Handbook
Our Credential Registry Handbook contains technical information for publishing and consuming data, as well as our APIs.
Publishing Data to the Credential Registry
There are three publishing system tool options available to organizations:
Manual Entry – recommended for small quantities of data

CSV Bulk Upload – recommended when it's not possible to directly utilize the Publishing Assistant API

Credential Registry Publishing Assistant API – for mapping and publishing structured data  
Visit the APIs page (on this site) 

Visit the Why Publish to the Registry page (on this site) 
Consuming Data from the Registry
There are multiple options for integrating data from the Credential Registry with systems and software applications.  These options include directly searching the Credential Registry, or downloading data for offline use. All data published to the Registry is available for consuming as CTDL using JSON-LD.  Data downloaded for offline use can also be used in a document store or graph database, or mapped back  to a traditional relational database structure, such as SQL. 
Get in Touch
Our team of experts is ready to help you embark your credential transparency journey. Whether you have questions about our technologies, services, or don't know how to get started, we're here to assist.