Alabama is just under halfway to its 2025 attainment goal of adding 500,000 newly credentialed Alabamians to the workforce. Since the announcement of the Alabama Workforce Council's Success Plus plan by Governor Ivey in 2018, 214,922 Alabamians, ages 16-64, have attained their first post-secondary credential. These credentials include degrees, certificates, licenses, certifications, and completed apprenticeships. In 2021, 45.7% of the working age population, ages 25-64, had a post-secondary credential. This is an increase from 43%, the 2017 figure reported in the original Alabama Workforce Council Success Plus research.
Population Dynamics 
The 25-64 age group is projected to constitute a minority of the state's population (49%) by 2028. In response, the Alabama Workforce Council and Success Plus initiatives have aimed to support the credentialing and labor market entry of people younger than 25. Many of the first credentials counted in this report are earned by this age group.
Regional Attainment
Each region in Alabama contributes to the Success Plus attainment goals. Figure 2 illustrates credential attainment for each workforce development region, not adjusted for population. Region 1 has the greatest number of first credentials attained and Region 2 has the fewest first credentials attained. Regions 3 and 7 have higher credential attainment, relative to their populations, due to large numbers of out-of-state students completing four-year degrees at large universities.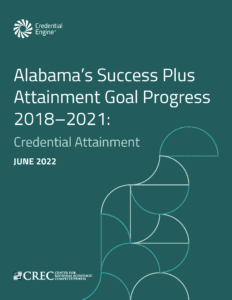 Click here to view Alabama Success Plus Attainment Goal Progress: 2018–2021 Special Population Attainment Report.