The goals set by Alabama's Workforce Council and Governor Ivey in 2018 require inclusion of all Alabamians in the benefits of Success Plus's transformational education and workforce development initiatives. This includes engaging populations with low labor force participation and barriers to work. Individuals in these groups may require targeted support to access Alabama's pathways to postsecondary education and careers.
Measuring progress toward the Success Plus credential attainment goals for specific populations will require new data collection and analysis. There is currently too little data available on the populations that face the greatest barriers and their credential attainment to assess their progress toward the Success Plus goals statewide. For this report, the research team consulted 14 state agencies and reviewed data from seven of these agencies. This process helped identify what data is available and how it could be used to measure credential attainment for 16 special populations identified in the Success Plus plan.
An extensive review of the available data identified strengths and opportunities related to collecting and reporting further information that will help the state accurately measure credential attainment by individuals included in 16 special populations in the future. The following recommendations are provided to advance progress in data collection and analysis in the short- and long-term:
Use the currently available data to measure the first credential attainment of Alabamians by demographic group;
Produce reports that invite innovation in credentialing efforts;
Increase the capacity for data analysis across state agencies;
Continue work to integrate data systems across education and workforce agencies;
Prioritize data collection and analysis that answers key policy questions;
Align and integrate data systems across education and
workforce agencies; and
Continue to increase access to postsecondary education,
training, and credential pathways for Special Population groups.
Much work remains in the development of critical data infrastructure and reporting capabilities of state education and workforce agencies in Alabama. With leadership and commitment to transformational policies by Governor Ivey and the Alabama Workforce Council, and data-informed decision-making practices by agency leadership, meeting the Success Plus attainment goals for all Alabamians is well within reach.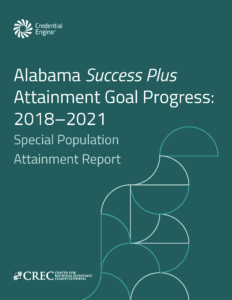 Click here to view Alabama's Success Plus Attainment Goal Progress 2018–2021: Credential Attainment Report.